Happy 30th Anniversary to Al Wurster!  It's hard to believe it's been 30 years already and Wurster Construction continues to grow.
Many employees, and 'friends of the company', know that Al is an avid fan of the Indianapolis 500 and the Indianapolis Motor Speedway.  To celebrate Al's 30th Anniversary, the Wurster Construction Family presented Al with a commemorative brick which will be placed in the Pagoda Courtyard at the Indianapolis Motor Speedway.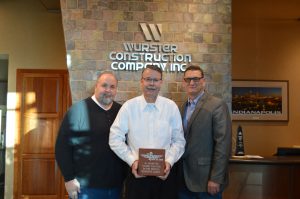 "I wanted to thank the Wurster team for honoring my 30th anniversary with the company", Al said when asked about his 30 years.  "The 8"x8"  brick paver was a perfect gift!  I look forward to seeing it out in the plaza at the Indianapolis Motor Speedway somewhere near the pagoda.  We have certainly seen a lot of changes as a company in that time frame.  Over the years, we've gone from 5 immediate family members to 1.    I consider each of you part of the Wurster Construction family today.  Thank you again for this special honor and celebration of my time with the company."
Congratulations Al and thank you for the last 30 years and everything you have done, and continue to do, for Wurster Construction!